1
sayfadaki
1
sayfası •
Paylaş
•

RENATO CAROSONE
http://www.renatocarosone.it/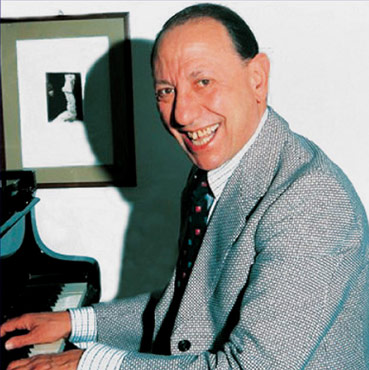 Renato Carosone (3 January 1920 – 20 May 2001) was among the greatest figures of Italian music scene in the second half of the 20th century. He was also a modern performer of the so-called canzone napoletana, Naples' song tradition.
Biography
Carosone was born in Naples. He studied piano at his hometown's Conservatory and obtained his diploma in 1937, when he was just 17. He soon signed a contract as a band leader for a tour of Africa. After that job, he ended up in Addis Ababa working as a pianoplayer. In a short while he became quite famous there and had several gigs as band leader. He returned to Italy only in 1946, after the end of World War II.
Those ten years spent abroad had exposed him to new rhythms and new sounds, but, in spite of his international success, Carosone was a stranger to the Italian audience. He had to start his career afresh, playing the piano in some small dance-hall bands.
Success
In 1949 he was asked to put together a group for a club's opening night. After some auditions, he signed the Dutch guitarist Peter Van Wood and the Neapolitan drummer Gegè Di Giacomo: so the Trio Carosone was born. The trio became quartet with the Hungarian Gypsy musician Elek Bacsik on bass, guitar and violin.
Afterwards Van Wood and Bacsik left the group to pursue solo careers. Gegè Di Giacomo remained with Carosone, who contacted other musicians to finally form a real band.
During 1950s Carosone became more and more popular, his orchestra was on high demand both in Italy and abroad, and records sales were soaring high.
A hint of his world-wide success: his song Torero - specially composed for a Spain tour - remained for 14 weeks at number 1 on the US hit parade, was translated into 12 languages and no fewer than thirty cover versions were recorded in the United States alone. On 5 January 1957 Carosone and his band started off a successful American tour with a concert in Cuba. The last tour concert was a triumph at the prestigious Carnegie Hall in New York.
Retirement
Carosone surprisingly announced his retirement in 1960, when he was still at the top of his success: "I'd rather retire now on the crest of the wave, than after being tormented by the doubt that yè-yè fashion and new armies wearing blue-jeans may wipe away all that I have achieved in so many years of work and worries". His decision caused an uproar. Some even suspected obscure criminal threats. Away from the spotlight, Carosone turned to other interests, mainly painting.
Comeback
On 9 August 1975 Carosone made his comeback in a televised concert. He then resumed his musical career with live concerts, performing at the Sanremo Music Festival, TV programs, until late 1990s.
He died in Rome in 2001.
Repertoire
Several of his hits were the result of this long and fruitful cooperation with the lyricist Nicola Salerno, who used the pseudonym Nisa. They could understand each other perfectly: just one hint by Carosone, and Nisa wrote a funny, witty little story about it. Among their greatest hits, "'O suspiro", "Torero", "Tu' vuo' fa' l'americano", "Mambo Italiano", "Caravan Petrol", "Pigliate 'na pastiglia,"'O Sarracino".
A few famous songs in Carosone's repertoire were not written by Nisa: "...E la barca tornò sola" (a lively parody of a song performed by Gino Latilla at Sanremo Music Festival in 1954), "Tre numeri al loto", "Maruzzella" (dedicated to his wife Marisa), "'O russo e 'a rossa".

---
Bu forumun müsaadesi var:
Bu forumdaki mesajlara cevap
veremezsiniz