1
sayfadaki
1
sayfası •
Paylaş
•

DAVID LIVELY
The American-born concert pianist, David Lively, began his career at fourteen when he performed Khatchaturian's virtuoso Piano Concerto with the Saint Louis Symphony Orchestra. Lorin Maazel subsequently invited him to perform with the Cleveland Orchestra which resulted in engagements with ensembles such as the English Chamber Orchestra, Royal Philharmonic Orchestra, Vienna Symphony Orchestra, Berlin Symphony Orchestra, Budapest Philharmonic Orchestra, National Orchestra of France in collaboration with such prestigious conductors as Sir Simon Rattle, Sir Colin Davis, Erich Leinsdorf, Lovro von Matacic, Kurt Sanderling, Sergiu Comissiona, Ferdinand Leitner, Walter Weller, Leonard Slatkin, Jesus Lopez-Cobos, Michael Tilson Thomas, etc. A gifted artist at home in a breadth of styles, David Lively has a repertoire of over sixty works, more than ten of which he has recorded on CD.
Particularly interested in the American 20th century musical heritage, David Lively focused on the masterpieces of Elliott Carter and Aaron Copland, with whom he both studied and recorded their works. His enthusiasm for such neglected masterpieces as Busoni's and Furtwängler's monumental Piano Concertos led to recordings of both works, the CD of Furtwängler's being the first of the unabridged and definitive version. He also devotes his attention to performing contemporary works, giving the European premiere of "Riverrun" by Takemitsu with conductor Kent Nagano, the French premiere of "90+" for piano solo by Elliott Carter as well as "Cendres" by Kaija Saariaho. Most recently, he gave the world premiere of the chamber concerto "Cris" by William Blank, a work written specially for him and the Orchestre de la Suisse Romande, and Michael Travlos' Double Concerto with the Moscow Radio Orchestra conducted by Vladimir Fedosseyev.
The Saint Lizier Festival in the French Pyrenees, which David Lively directs every summer, reveals his devotion to the organisation and performance of numerous chamber music concerts together with artists such as the Melos and Borodine Quartets, violinists Gil Shaham, Myriam Fried, Augustin Dumay and pianists Martha Argerich, Eugene Istomin, among many others.
David Lively studied in the United States and in France at the Ecole Normale de Musique de Paris where he now resides, in addition acquiring French citizenship. Prize-winner in numerous international competitions, including the Marguerite Long-Jacques Thibaud where he met Claudio Arrau, to become one of his rare pupils, the Queen Elisabeth and the Tchaikowsky where he won the special prize for contemporary music, David Lively has also been awarded the Dino Ciani Prize of the Scala of Milan in 1977.
Having taught at the National Superior Music Conservatoire of Paris, David Lively has also given master classes at the Hochschule in Vienna, the Royal Scottish Academy of Glasgow and the Chapelle Royale in Belgium. From 1998 to 2001, he instructed one of the concert pianists' classes at the University of Music in Vienna. He is also regularly invited on juries for international piano competitions such as the Queen Elisabeth and the Marguerite Long-Jacques Thibaud.
A total command of the keyboard allied with an insatiable curiosity allow David Lively to master all styles from the Renaissance to music of today and to perform such monuments as Bach's entire Art of the Fugue. During the last three years devoted particularly to teaching, David Lively has given great consideration to the role of the keyboard in the history of music. This has led to a redefinition of his role as virtuoso and the development of several unique projects.
One of these is the rediscovery of the Romantic Chamber Concerto, a remarkably well developed genre in the early 19th century particularly in France. Study of this repertoire has led to the re-edition and performance of several works, better known in their more amplified versions, and the discovery of little-known or only recently republished works. David Lively is proposing programmes to discover this repertoire with the accompaniment of string quintets playing on period instruments.
Another innovative project of great potential is the new technique Prismorphism comprising a new approach to interpretive performing developed by David Lively. Following an installation-performance in collaboration with his colleague Jean-Baptiste Barriere, composer and former research director at IRCAM, David Lively is working on the development of electronic interpretation. This installation-performance, involving synthesizer and computer programming, is conceived for realisation in inspiring architectural sites permitting spatial sonic effects combined with visual projection of Impressionistic masterpieces. An important objective of this work is the use of these new techniques to attract and convince a larger and more general audience.
Sept. 2003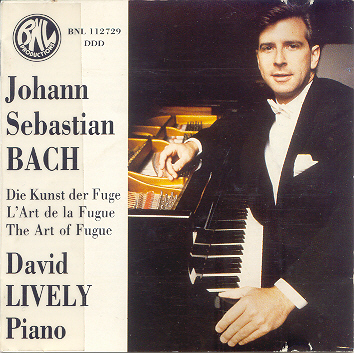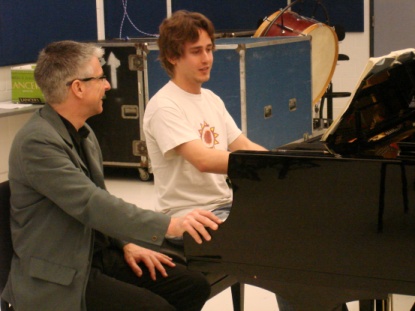 Admin




Mesaj Sayısı

: 2410


Kayıt tarihi

: 01/04/08




---
Bu forumun müsaadesi var:
Bu forumdaki mesajlara cevap
veremezsiniz